at it again
Despite declaring my opposition to the cult of female technosocial self-improvement, I have been plugging away at some of what they call e-Learning!  For one, I have been doing Code Academy tutorials, which I unashamedly love. I could sit at my dining room table for hours doing Code Academy, (sometimes with a glass of chardonnay). So perky, so encouraging! But I'm also doing another...
From the Journal of Body Projects
I've spent too much time doing grapevines back and forth behind a Reebok step to really be able to think objectively about modern gym culture, but I have come up with a few hypotheses: Maybe we're craving an outlet for a competitive drive that would be inappropriate in other social situations. Or, perhaps we are trying to create a sense of meaning and satisfaction in our likely...
It's a cyclic thing:  get overwhelmed by daily life, the working on this, getting to that, taking care of this, going here, reminding myself i should be doing that. Then something flies up into internet conscious: buckle down ladies! work harder! feminist housewives! don't be rude in calling out deplorable human behavior! For the past few months, I've been casually studying the...
"On the way to a longer reflection — one day, I don't know exactly when — on my..."
– Ugly feelings indeed, via BEST SPARKLER
"Academic culture is a huge and diverse ecosystem. People who come along with grand plans about how everything is going to be transformed so often don't have even a very shallow understanding of how that ecosystem works: You have all these Silicon Valley venture capitalists who are going to blow everything up and transform it; what you're really talking about doing is killing all...
"Losse, like other women who have navigated the archaically sexist halls of new..."
– Girl Geeks and Boy Kings, via karaj
I weaned Letty over New Year's, and it was a relief. I was lucky to have had a relatively easy time with nursing, but it is an immense relief to quit. While I was hardly a teetotaler (or more accurately, a coffee and prescripton-forgoer) it is nice to not think of your body as a contaminated food source. I often thought of the descriptions of grass-fed, hormone and antibiotic free,...
"Of course, you don't know me from adam. I could be a terrible parent; I could be..."
– Buffalo Mama via Blue Milk
"Some idiot went on a crusade last week to get as many naked snaps as possible..."
– "Snapchat isn't even a good sexting app!" This tech crunch post is kind of hilarious by how indignant it is about the alleged sexting (Your wife will catch you!)  and how "whatever" it is about the Snapchat Sluts tumblr.
"I am totally going to this neighborhood party today."- Nathaniel
1 tag
2 tags
"Twitter is bragging because it didn't go down on Election Day. The..."
– Jesus Diaz: "Why Twitter's Election Night Success Is Not a Success" Yeah. Beta isn't infrastructure.
"I saw Gillard's speech live on television and registered that it was..."
– George Melaogenes from The Australian on Julia Gillard's Feminist Troll Moment
"yet what happens to the blogs and tumblrs, these infinite, immaterial notebooks?..."
– kate zambreno, heroines  (via karaj)
2 tags
"I stopped taking my medication when I got pregnant with Milo. After I gave..."
– The Kids Have Arrived True to life.
"I can't help but see an element of self-preservation amid our data collection...."
– Paris and the Data Mind
So, in lieu of a self-challenge that involves anything healthy or enriching, I've made it my goal to listen to the Misfits every day during the month of October. This has been a wonderful plan. I have fantasies of being a Real Hausfrau of whatever and staging an elaborate children's halloween party featuring a Misfits cover band, comprised of children, doing g-rated versions of all the...
Over on ye olde HASTAC blog, I wrote about privilege-checking as a performance of anti-social feminism: If you have ever gone down that internet k-hole that is wedding blogs (DONE IT! NO SHAME IN MY GAME!), or Mommy blogs (DITTO!), you probably know about Offbeat Bride, a web site where you can read about people who have gamer/hobbit/rockabilly weddings or whatever, and Offbeat Mama, for Y B...
The static finally caught up to me at one point- the hired packers who had come in and put our old apartment into boxes, even like, wrapping up three bobby pins in tissue and carefully boxing up the cracked Russell Wright planter that was on a top shelf and housed miscellaneous and mostly unused paraphernalia, the sublets and housesitting and the fact that the dresses I'd bought at the...
1 tag
Creeping as feminist trolling
Another angle worth exploring might be creeping as a form of FT. I totally creep feminist tumblrs and fashion message boards (WAYWT threads mostly). I've seriously been lurking some people's blogs and LJs for years. Y-E-A-R-S. It's the worst feeling when you meet someone in person and you can't say, "I read your blog….all of it." On one hand, it's...
"I would also never identify myself as a "n00b". (Because what does..."
– NEW POST AT BETTER THINGS TO DO!
Every time I do freewriting, (which should be every day and is not), it's basically "OMG CHANGE IS SO HARD I HAVE SO MUCH PSYCHIC UPHEAVAL". Change is really fucking hard. Uncertainty is hard. Not totally calling the shots in terms of where you live and everything in your life is also really hard. I have funding to finish my dissertation this year, and it keeps me from feeling...
1 tag
What about that time that I moved to a different city while I was writing my dissertation, and got all worried about telling my committee,  and then two months later my advisor forgot the whole thing and I had to tell her again?
2 tags
an update on my attempt to reenvision digital...
I posted on "Better things to do"'s HASTAC blog.
"The constant celebration of homemaking in the media cannot conceal the fact that..."
– Ellen Willis in Mademoiselle, September 1969. (EW said in a 1989 Terry Gross interview that, besides sex, the single thing responsible for radicalizing her was housework.)
"Trump has trumped how we think about political representation. The voice of The..."
– Berlant
3 tags
1 tag
"it is the workplace rather than the home where clutter, in its various forms,..."
– Making Place for Clutter and Other Ideas of Home, LAUREL SWAN, ALEX S. TAYLOR, and RICHARD HARPER, 2008
1 tag
Academic tumblrers: let's do this →
It may be a horrible idea, but Lana goaded me into starting a HASTAC group where we can talk about "famous anorexics", feminism, archives, weird material cultures, ET CETERA. Join! You can put it on your CV! You can say that you do "digital humanities" and then post some pictures of stuffed animals.
"But it's okay, because I like my job. Liking your job is a blessing. We all..."
– Madame Regarding!
2 tags
on alternative development
Here's something kinda half-baked I wrote about App.net and the ideas of building new technologies and actually including people who use them. I was close to joining app.net the other night- my daughter was in bed, my husband and I were both working, and I finally had the chance to sit down and look at the call.  I am totally onboard with much of what Dalton Caldwell is saying, and I...
"Telling women to prioritize getting paid and getting laid over motherhood and..."
– None of Us Would Be Here Right Now Without Helen Gurley Brown, Radical Feminist
learning ethnography
I said goodbye to one of my study subjects today! It was actually striking to me to do so. She was very cool and talked about the sort of things she was trying to accomplish in a funny, sarcastic, hopeful way. Her roommates were people I vaguely knew in college, and I was super weirded out by it. Not surprisingly, they were smoking pot the first time I came over and I suspect she went into the...
between 16th and 19th
Bronwyn watched Letty yesterday afternoon, so I took her out for dinner and drinks after. We ate at a slick Peruvian restaurant, then wandered into a bar that reminded me what I thought of SF in the 2000s: girls with short bangs, dudes in fedoras, convivial sleaziness. My perception of the Mission before was Jawbreaker and J Church. It's not so much how things have changed, but mainly that...
"But her posts were also magnets for the resentment of folks who could not stand..."
– Roy Pérez: Mark Aguhar's Critical Flippancy
"…curate your early members. Invite people to join. Tell them exactly why they're..."
– Derek Powazek - On Seeding Communities (via lauraglu)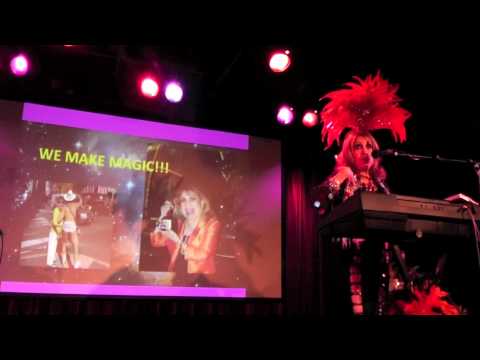 PROVENANCE
rgr-pop: As an archivist it's really important to me to keep track of which internet feminist coined which catchphrase.
We officially no longer live in Seattle. I write this from an overpriced Air BNB rental in the Mission where we will be for the next month, which N rationalized on the basis that we will be living in some sort of Pearl District furnished flat on the company dime in September. If there was a discourse on urban mobility the way there is on other ubiquitous topics, I would identify myself as an...
Why Yahoo! Needs a Chief Archivist (and I'm... →
Do something radical: Hire an archivist. Not just someone to shuffle around papers in case someone needs them or someone to keep records for your next audit, but someone to help conceptualize Yahoo! for what it truly is: a dynamic and valuable archive that people trust and return to.  People have long relationships with Yahoo!, which, in terms of internet properties, this is extremely rare. In...
1 tag
fiction
Sarah revealed certain things to me, many of which were subtly unsetting- that she was separated from an estranged husband, but afraid to file the final divorce papers. That she thought she was gay. That her mother still picked out her clothes. That she read the same blogs that I did. She was self-aware and skillful at manipulating others but so unsure of what she was doing. At least that's...